The Lynex SX1000 is a radio controlled flail slope mower designed for mowing slopes of up to 75 degrees
With very low ground pressure the machine is particularly useful in ecologically sensitive areas and over soft ground. The machine cuts long grass and light scrub but also provides a very good finish on short mown areas.
The reliable transmission, combined with powerful cutting high performance even under difficult conditions, and the machine is ideal for mowing on steep slopes at water reservoirs and nature reserves.
walls / cliffs
Wetlands
Water Pools
Road construction
Antiquities
Natural areas
The unique engine mounts ensures that the engine always in vertical position during operation.
The deck has great absorbency and also provides great cutting capacity.
The Fail Safety system monitor the machine under all conditions. We have developed our own remote which only weighs half the weights of others remotes which raises considerable discomfort.
Safety features include an emergency single action cut out switch on the hand control, and another located on the machine itself.
Watch Lynex SX1000 in action
Watch footage of the machine in action.
Please contact us if you have any questions or would like to see the machine in real life.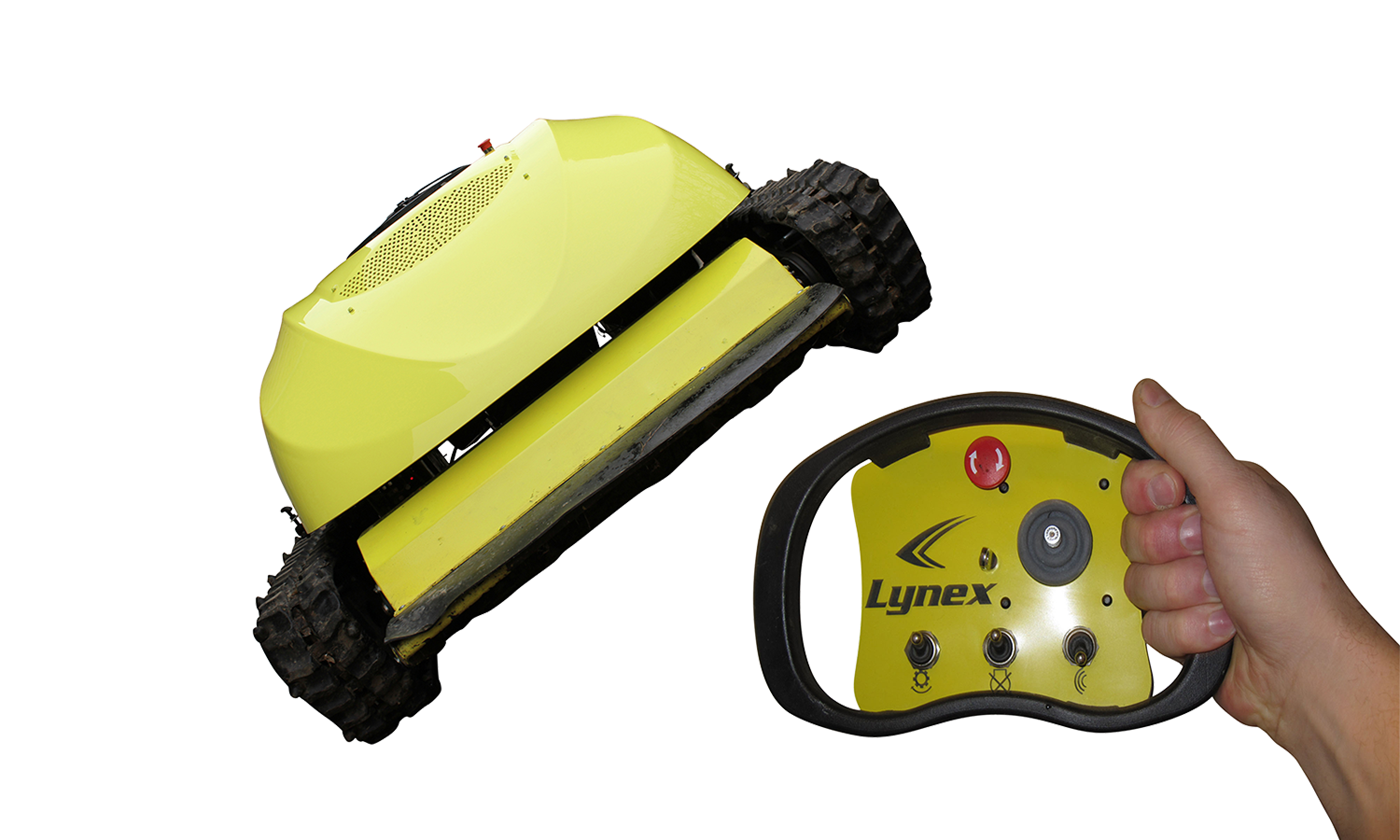 Type
SX
Model
SX1000
Engine
23 PS, B&S Vanguard, Gasoline
Weight
290 kg
Lengt
132 cm
Width
154 cm
Height
132 cm
Turning radius
0°
Runs up hill to
75°
Three point linkage
–
PTO shaft – front
–
Remote
Range 800 m, 2,4 GHertz
Mover deck
100 cm
The machine can be modified as needed.
(*Disclaimer for changes in technical specifications etc.)