Lynex TX1200 slope mulcher
Lynex TX1200, with its simple construction and low center of gravity, work on slopes up to 55 degrees. The machine is radio controlled and can maneuver at a distance of up to 800 meters.
• Walls / cliffs
• Wetlands
• Water Pools
• Road construction
• Antiquities
• Natural areas
The powerful and wide tracks provide utility machine an extremely high load carrying capacity.
It dos not damage the green and its can run perfekt in wetlands.
In bush and forest areas are branches rejected by the sharp black roll bar that can also be used for lifting and lashing.
Three-point linkage is a Kat.1, and can be connected to all standard tools.
The lift arms can be moved laterally, for simple and easy operation. Auto weight transfer and lift level. Can lifting gear over the tracks, which makes the machine extremely manoeuvrable in hilly terrain and driving over ditches.
Along with front PTO and hydraulic couplings, there are many applications.
Watch Lynex TX1200 in action
Watch footage of the machine in action.
Please contact us if you have any questions or would like to see the machine in real life.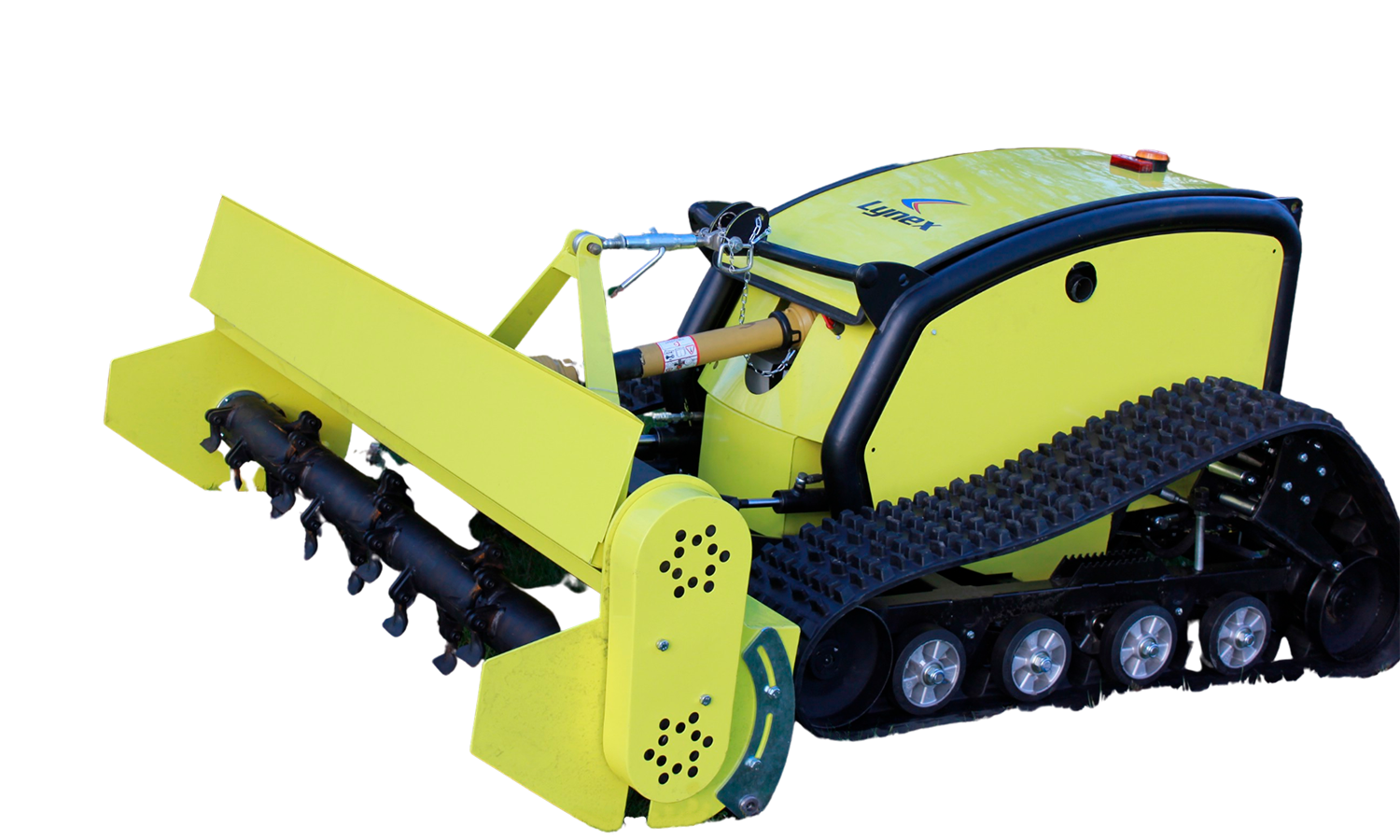 Type
TX
Model
TX1200
Engine
35 hk, Kubota, Turbo Diesel 1,5 l
Weight
730 kg
Length
210 cm
Width
150 cm
Height
97 cm
Turningradius
0°
Runs up hill to

55°
Three point linkage
kat1
PTO tap – front

1000 rpm
Remote
Range 800 m, 2,4 GHertz
Mower deck

150-200 cm
The machine can be modified as needed.
(*Forbehold for ændringer i tekniske specifikationer etc.)