X1500 makes the impossible possible. Never before has a tool carrier been able to adapt to the situation with perfection.
Gravity and ground clearance:
The center of gravity on the TX1500 can be moved to the extreme. The hydraulically adjusted between 10 and 55 cm, which provides optimal opportunities to drive on slopes up to 45 degrees, and on marsh land or water. This happens with a small touch on the remote control.
The machine has hydraulic suspension in all four corners for smooth running without vibration.
walls / cliffs
Wetlands
Water Pools
Road construction
Antiquities
Natural areas
Transmission / engine
The engine is the Caterpillar brand with 100 HP that provides great power to the tools one may want to put on the machine. There isn't any V-belt on the machine, this reduces the maintenance on this model TX1500
The powerful transmission sits in closed well tested gearboxes. We've only used the best components to ensure the highest possible efficiency. If the machine must be running with crushes and not desired PTO operation, it also comes with a piston pump of 95 hp to the crusher.
Remote Control
We have developed the remote from scratch, and it is the only one on the market, that has two way communication, making it possible to get valuable information on how steep the slopes are, or how high the engine oil pressure and temperature is at all times.
The electronics are in fact so robust that the remote also is sold to industrial machinery. It uses 2.4 Ghertz, which means that it has approved almost anywhere even at oil refineries. The remote has a guaranteed range exceeding 800 meters.
Watch Lynex GX1500 in action
Watch footage of the machine in action.
Please contact us if you have any questions or would like to see the machine in real life.
Coolers
The machine has a cooling capacity designed for operation in Australia. The radiator is fitted with a dust and pollen filter that effectively removes all foreign matter. As an option, TX1500 comes with reversible fan blades which are controlled from the remote.
3 point hitch, PTO.
The machine is fitted as standard with 3 point hitch on the rear end and front.
This allows the TX1500 to run all tools that a tractor can run. Our PTO is mechanically which means that 98% of the effect is on the PTO and therefore no transmission loss here.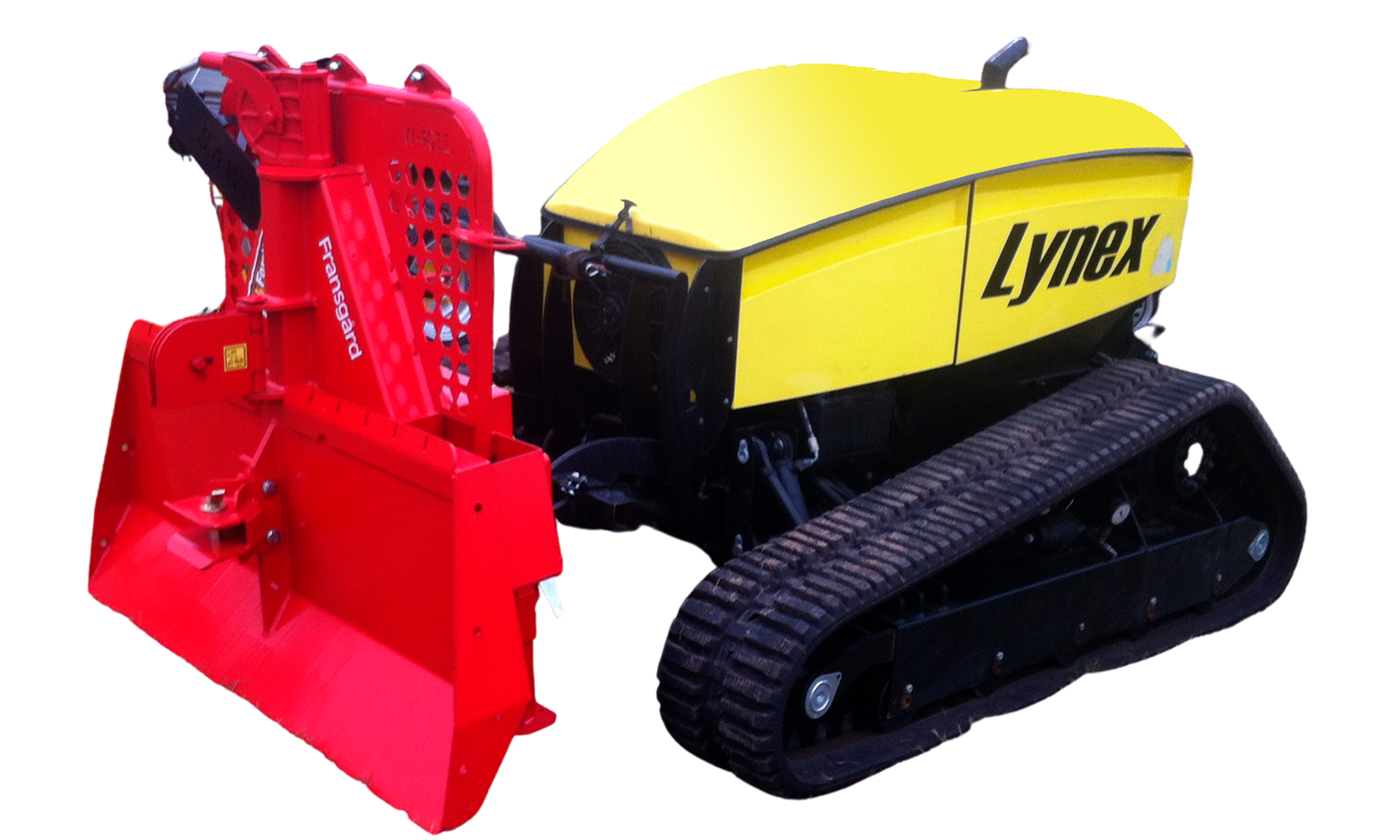 Type
TX
Model
TX1500
Engine
45 ps, Kubota, Diesel, 1,5 l
Weight
2.200 kg
Lengt
240 cm, Link arms 20 cm
Width
158-200 cm
Height
132-155 cm
Turning radius
0°
Runs up hill to
45°
Three point linkage
Front & Rear, Cat.2, m. 1.000 kg
PTO shaft – front
Mech., 6 splines, 1000 RPM, L/R
Remote
Range 800 m, 2,4 GHertz
Mover deck
200-400 cm, dep. on the impl.
The machine can be modified as needed.
(*Disclaimer for changes in technical specifications etc.)